Tell Chuck E. Cheese's to stop marketing junk to kids
Chuck E. Cheese's, the kid-focused chain restaurant that serves up pizza and games, is also serving something else to kids: more than 75% of the calories they should eat in a day and excessive amounts of saturated fat, salt, and sugar.
An average birthday party lunch, including two slices of pepperoni pizza, one soft drink with a refill, and a slice of birthday cake, has 980 calories, about a day's worth of saturated fat and sodium, and 6 days' worth of added sugar.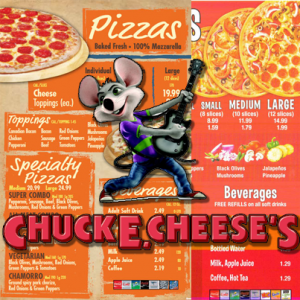 Having fun shouldn't have to harm kids' health.
Other than a salad bar, all of the menu items at Chuck E. Cheese's are high in calories, unhealthy fats, sugars, or salt, making it impossible for parents to find healthy options.
And Chuck E. Cheese's is a major advertiser to children on television, in movies, online, on food packages, and through school fundraisers.
Please tweet at @chuckecheese and urge the company to provide healthier options on the menu and stop marketing unhealthy food to children. Below is a model tweet.
Model tweet:
.@chuckecheese: If you really want to provide a wholesome environment 4 kids, add healthy options to the menu and stop marketing junk to kids!
And, check out these blog posts on Chuck E. Cheese's nutrition from a fed up mom and our team at CSPI.