Urge Kraft to end Lunchables bait and switch
Only 5 out of 42 varieties of Lunchables meet Kraft's own nutrition standards, according to a new study from the Rudd Center for Food Policy and Obesity. The report also found that in supermarkets, the unhealthy versions of Lunchables outnumber the healthier ones by six to one, and the healthier versions are more likely to be stocked above parents' and children's eye level.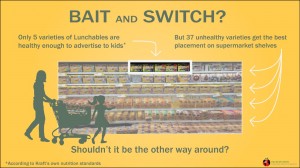 Kraft baits parents by advertising a few healthy brands on TV, then hides those on store shelves among 37 unhealthy varieties containing cookies, sugary drinks and fruit snacks. It is unrealistic to expect that children will choose the healthier version in the grocery aisle when those versions are outnumbered and out of reach.
If a brand is going to be advertised to children, shouldn't at least a majority of its products be healthy?
In response to the report's findings, the Food Marketing Workgroup sent a letter to Kraft asking the company to: adopt a comprehensive policy on brand advertising and marketing; update Kraft's food marketing policy to cover in-store and on-package marketing; and Extend Kraft's marketing policy to cover children ages 12 to 14. The Workgroup also sent a copy of the letter to the Children's Food and Beverage Advertising Initiative.
Please help urge Kraft to reform its marketing of the Lunchables product line and strengthen its policies regarding marketing directed to children. Click here to tweet.