Stop companies from using Hello Kitty to market junk food to kids
Hello Kitty is not just a cultural icon — she's big business too. In 2012, retail sales of licensed Hello Kitty merchandise in the United States and Canada topped $1 billion. The entertainment company Sanrio Inc. licenses Hello Kitty's image to sell Jelly Belly jellybeans, Pez candies, cotton candy, imitation fruit snacks, Popsicles, marshmallow pops, and sour mints.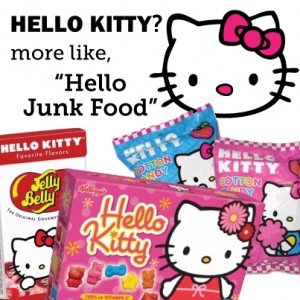 Childhood obesity rates are at record high levels. Though a number of factors contribute to children's poor diets, food marketing is an important one. The Institute of Medicine found that food advertising affects children's food choices, food purchase requests, diets, and health.
Sanrio should ensure that her adorable image is not used to advertise junk food to kids.
Please urge Sanrio to stop using Hello Kitty to adopt nutrition standards for all its food marketing to kids.