Take Action
Urge Nickelodeon to stop marketing junk food to kids
Nickelodeon is the largest entertainment company for kids. It markets and advertises food to children through television, its websites, games, toy giveaways with fast-food meals, and the use of its characters to promote foods.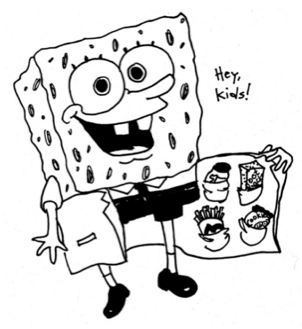 On Nickelodeon, ads for unhealthy foods have decreased only modestly in recent years from about 80% of food ads in 2008 to 70% in 2012, according to a study from the Center for Science in the Public Interest. Nickelodeon addresses the licensing of its characters, but not its television advertising or websites, which are the primary means by which it markets to children. In contrast, the Walt Disney Company and ION Television (Qubo) have comprehensive policies that apply nutrition standards to all their marketing to kids.
More than 100 health professionals, scientists, and organizations have signed on to a letter [pdf] to push Nickelodeon to do better by kids. And public health advocates took out a full-page ad in a March 2013 issue of the Hollywood Reporter, calling on Nickelodeon to develop and apply strong nutrition standards to all of the company's marketing to children.
Read one mom's perspective on how junk food marketing makes parents' job harder:
How Big Food is targeting my toddler
Please help urge Nickelodeon to stop marketing junk food to kids:
Send a letter to Nickelodeon's CEO.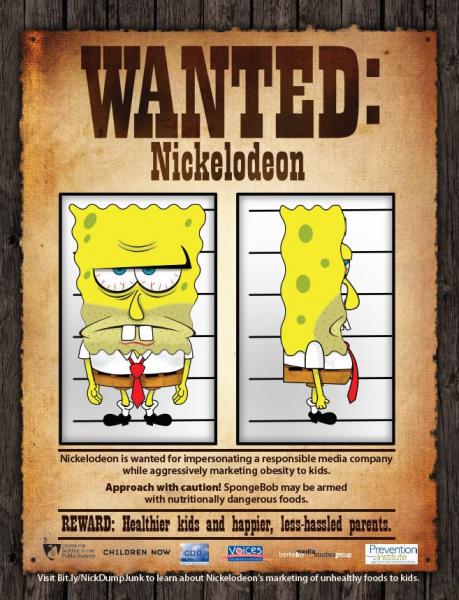 Learn more:
Report card on food-marketing policies: An analysis of food and entertainment company policies regarding food and beverage marketing to children [pdf]
Center for Science in the Public Interest
Better for who? Revisiting company promises on food marketing to children [pdf]
Center for Science in the Public Interest
Support updates to the Children's Online Privacy Protection Act and keep parents in control of who can collect data from their kids
Today advertisers can track, collect personal information from and serve personalized ads to children wherever they go online. The Children's Online Privacy Protection Act (COPPA) is currently being updated to keep pace in the digital era but has received strong industry opposition.
Join workgroup members Center for Digital Democracy and Common Sense Media in signing this petition to update COPPA and keep parents in control of what online data companies can collect about kids. To sign an advocacy letter or to learn about other action opportunities, contact Joy Spencer.
Expose the truth about the health consequences of soda
Soda companies want you to be happy, dammit! That's what their advertising would lead you to believe, but the real-world consequences of their sugary products are nothing to smile at. As the Center for Science in the Public Interest shows in this bold new video featuring music from Jason Mraz, soda consumption is linked to health complications like tooth decay, diabetes and heart disease. But it doesn't have to be this way. Watch — and join — "The Real Bears" as they take back their health and happiness. Dump the unhappy and share the bears!
Urge the release of IWG guidelines
The Food Marketing Workgroup supports the policy recommendations of the Interagency Working Group on Food Marketed to Children (IWG), which has been charged with creating voluntary guidelines for foods marketed to kids. Currently, each food and beverage company is able to determine its own nutrition standards for what foods are healthy enough to market to children. If adopted, the IWG guidelines would provide industry-wide consistency.
In the wake of recent legislation that has created a roadblock for the IWG, we need your help to urge President Obama and his Administration to finalize the Interagency Working Group (IWG) voluntary guidelines for foods marketed to children.
Through the passage of the Consolidated Appropriations Act of 2012 (H.R. 3671), Congress directed the Administration to comply with an Executive Order that usually applies only to mandatory regulations before completing the voluntary food marketing guidelines for kids. The IWG needs to determine how it will abide by this Congressional directive and finalize the IWG marketing guidelines.
Please write to President Obama today and urge swift completion and release of strong final food marketing guidelines.
Reduce junk food marketing in schools
Captive kids: Selling obesity at schools (An action guide to stop the marketing of unhealthy foods and beverages in school)
California Project LEAN. Toolkit prepared by Peggy Agron, Victoria Berends, Noralee Cole, Cyndi Guerra Walter, Katherine Hawksworth, Jennifer Kam, and Maran Kammer-Perez.
Reduce junk food marketing in neighborhoods
Fighting junk food marketing to kids: A toolkit for advocates [pdf]
Berkeley Media Studies Group