Food marketing in other community settings
Page guide
Background
Today, many of the food environments in our communities are unhealthy — dominated by fast food, with inadequate access to full-service grocery stores that stock affordable, healthy foods.1 These environments undermine children's diets and health. Most children and adults eat diets too high in sugar, salt and saturated fat, and too low in whole grains, vegetables and fruits.1 Nearly one in three young people are either obese or overweight,2 putting them at higher risk for diabetes, heart disease, and other serious, even life-threatening health problems.3 Click here for more detailed information on how Americans' diets compare to nutrition recommendations.
One key contributor to children's poor diets is unhealthy food marketing. Marketing infiltrates grocery stores and other retail stores, parks and recreational facilities, and many other places in our community.
Policy priorities
To help reduce the marketing of unhealthy foods and drinks to kids and teens, parents, advocates, and policymakers could:
Require that checkout areas in stores are free of candy, sugar-sweetened beverages, and other low-nutrition foods. More here: https://cspinet.org/protecting-our-health/nutrition/unhealthy-checkout
Ban food sales in non-food retail outlets.
Implement policies that ensure healthy food offerings on government property and in institutions. More here: https://cspinet.org/protecting-our-health/nutrition/healthier-public-places
Prohibit the sale of low-nutrition foods and beverages in zoos, children's museums, boys and girls clubs, athletic venues, and other settings frequented by children.
Levy state and local taxes on sugar-sweetened beverages and use funds to pay for obesity prevention and other public health, nutrition, and physical activity programs.
Healthy retail
Despite high levels of obesity, retailers and food and beverage manufacturers push extra calories on people at every turn. The widespread availability of junk food and sugary beverages means that even shopping for clothes or books has become yet another occasion for food companies to push (unhealthy) products on people. To help explain how retail marketing can affect health, we break it down according to the four major marketing categories, the "Four P's."4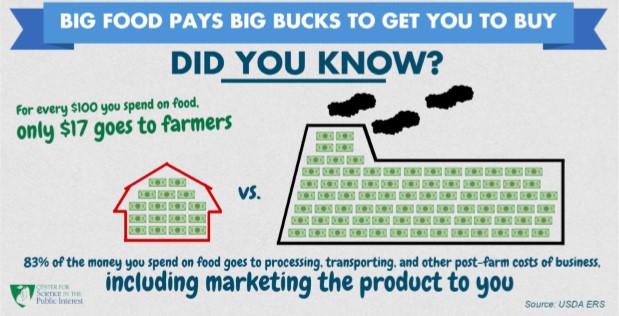 Promotion: Promotion includes advertising on television, billboards, and the Internet; in-store signage and advertising; the use of social media; and advergames (so-called because they combine advertising and electronic games).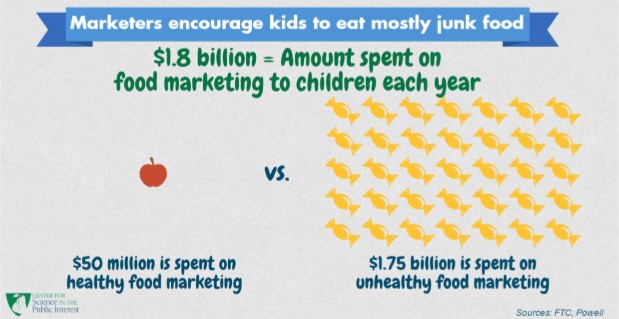 Product: Formulations, product composition, and package design all can induce consumption.
Price: Food pricing also can be a form of marketing. Most shoppers are highly motivated by lower prices. Higher prices can lower consumption of products.
Placement: Placement is often a subtle food marketing technique, but it is also one of the most pervasive and effective.
Healthy checkout:
Checkout can prompt impulse purchases, and unfortunately most of the foods and beverages promoted at checkout undermine customers' health. See more at: https://cspinet.org/protecting-our-health/nutrition/unhealthy-checkout.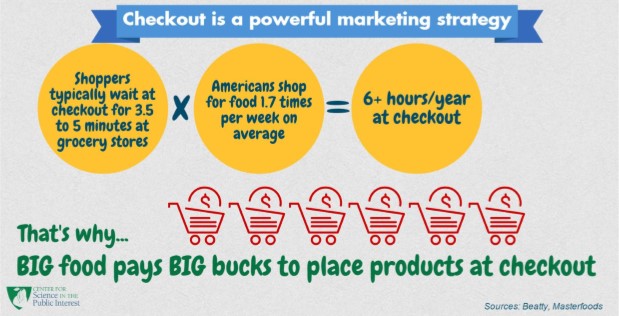 Minimum stocking requirements:
Access to healthy foods increases food security and supports healthier eating behaviors and better health outcomes. Minimum stocking standards for SNAP retailers could improve the retail landscape across the country, not just for SNAP participants, but for all who purchase items in retail stores that are SNAP certified.
Recommendations: Minimum Stocking Level and Marketing Strategies of Healthful Foods for Small Retail Food Stores
Healthy Eating Research, Robert Wood Johnson Foundation
Are You Fit For Fresh?
United Fresh Produce Association
Example from City of Minneapolis Health Department:
Healthy public places
Improving the nutritional quality of foods and beverages in worksites and public places is a low-cost public health strategy that can help to change social norms and create healthier food and beverage environments. More here: https://cspinet.org/protecting-our-health/nutrition/healthier-public-places
Taxes on sugar-sweetened beverages
Sugar-sweetened beverage taxes can raise revenue for valuable programs, as well as nudge consumption downward and reduce the regressive toll of soda-related disease.
Revenue calculator for sugar-sweetened beverage taxes
UConn Rudd Center for Food Policy & Obesity
Soft-drink tax policy brief [pdf]
UConn Rudd Center for Food Policy & Obesity
Website: Liquid candy: How soft drinks are harming America's health
Center for Science in the Public Interest
Model sugar-sweetened beverage tax legislation
National Policy & Legal Analysis Network to Prevent Childhood Obesity
Sugary Drinks: Stop sugary drinks from hooking our kids
Voices for Healthy Kids
---
References